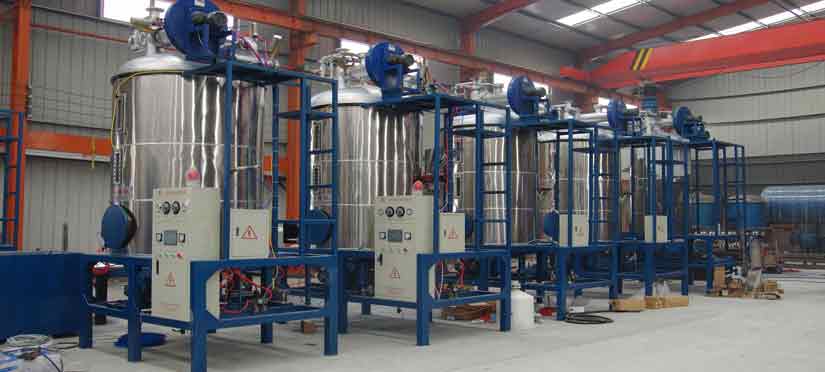 Place of Origin:Hebei, China
Brand Name:TIANFANG
Power(W):22.8KW
Dimension(L*W*H):2700x1660x4300mm
Warranty:1 year
name:Eps Batch Pre-expander machine with Best Price
Application:expand eps raw materials
Automatic:yes
Raw material:EPS raw material
HS code:84775900
control system:PLC With English Touch Screen
density:4.5-30kg/m3
machine color:according to requirement
Control System:PLC system
Price:good
Processing Type:Foaming Machine
Condition:New
Certification:ce, ISO9001
After-sales Service Provided:Engineers available to service machinery overseas
Product Type:eps beads
Voltage:380V/50HZ
Weight:3500kg
Expansion chamber diameter

1500mm

Height

2040mm

Volume

3.83m3

Valid volume

3.2m3

Steam pressure

0.03-0.06mpa

Compressed air pressure

0.6-0.8mpa

Air consumption

1.5-3kg/cycle

Steam consumption

5-10kg/cycle

Density

First expansion

10-30kg/m3

Second expansin

4.5-10kg/m

Density tolerance

max 3

Capacity

4.5kg/m3

650kg/h

10kg/m3

775kg/h

15kg/m3

900kg/h

20kg/m3

1025kg/h

25kg/m3

1100kg/h

30kg/m3

1300kg/h

Installed Power

22.8KW

Dimension

2700x1660x4300mm

drying bed dimension

5300x1200x1200mm

Weight

about 3500KG
We have different models of eps pre-expander machine.
There are : PSF-120, PSF-150, PSF-160 eps pre-expanders. The foaming capacity is different.
The following is the specs of PSF-140 pre-expander.
PSF-140 AUTOMATIC BATCH PRE-EXPANDER
(complete with fluidized bed drier and screw conveyor)
Brief Introduction:
It has first and second expansion.
It has screw conveyor and automatic weighing system.
It is controlled by PLC system and it has touch screen which can realize a full automatic cycle operation of material feeding, steam feeding, temperature controlling, foaming and discharging.
The foaming process in the machine is realized in a fully closed stainless steel barrel under constant pressure with high thermal efficiency, economized steam, shortened curing process and high foaming magnification.
The machine is composed by famous-brand and high-quality pneumatic elements which can supply a reliable quality and convenient operation to ensure a precise temperature control and uniformity of beading and density.
This machine can be matched with fluidized dryer to realize a continuous operation of drying.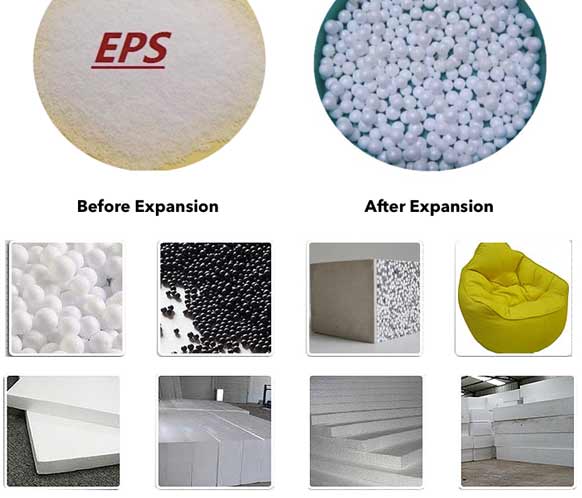 Previously, this underwater forest of algae was accessible only to marine creatures or specially trained divers. But now, researchers are using pioneering drones to scout out and map the miles of algae mats.
The Antarctic algae begin growing in early spring and rely on the small amount of sunlight that penetrates the ice to survive. They play a key role in the Antarctic food chain by supplying food for krill and other tiny animals.
with a radiometer that measures how much light each clump of algae absorbs. Based on the measurements, scientists can predict the total amount of algae growing under the ice.
The diving drones are 8.2 feet (2.5 meters) long and are shaped like torpedoes. The devices are deployed from holes that the researchers cut into the thick ice using an oil burner and a steam drill. The carefully carved holes also happen to be an ideal entry point for hunting seals, and sometimes, the researchers have to share their space with seals and sea lions that crowd around the heaters set up to keep the holes from icing over.
Algae growing on the bottom of sea ice absorb light at different wavelengths. Each torpedo-shaped drone is equipped with a radiometer that measures how much light each clump of algae absorbs. Based on the measurements, scientists can predict the total amount of algae growing under the ice.
WHY CHOOSE OUR EPS FOAM MACHINE?
1.MAKING EPS PRODUCTION LINE ESTALISHED IN 1988.WE MAKE NOT ONLY MACHINES BUT ALSO EPS PRODUCTS.
The production then we improve our machines according to that. For example, for our eps concrete wall panel line, we specially designed the mixer, it is enough for 20 moulds so that our customers don't need to change the line when they increase the capacity in the future. We also designed the mould which we can drive it like driving a car. It is much safer and easier than a pulling machine like what other companies are using.
2.WE OFFER ONSITE TESTING.
We have ready machines in the factory. If the customers need testing, we can test it immediately.
3.WE OFFER FULL-SCALE RELATED PRODUCTS.
We make full-scale related products for our customers. You don't need to go from one factory to another to choose. We have engineers who can offer you the best solution for your project.
4.GREEN, ENVIRONMENT-FRIENDLY PROJECTS
Our eps machine makes blocks for wall and roof insulation, which have a good insulation function. It can save a lot of energy and is one of the best insulation materials in the world now. The eps waste, no matter the waste during production or the waste we can collect from the community, we can crush them to make eps concrete wall panels.
5.BEST PRICE AT HIGH QUALITY AND OUR PERSONS ARE ENTHUSIASTIC, ROFESSIONAL AND RESPONSIBLE.
We are manufacturers with many necessary and advanced processing equipments. We can offer you the best quality machine at the best price. We will also give our customers the best formulation to ensure make the best-quality panels at the lowest cost.
6.TIMELY AFTER-SALE SERVICE.WE ANSWER CLIENTS' REQUESTS WITHIN 12 HOURS
In case our customers have some problems which they can't solve, we offer the timely after-sale service. We can make a video call online to offer technical support. We can even assign engineers to go to customers' factory if necessary.
EMAIL:eps1688@163.COM
TEL&WHATSAPP:+8619963847768
Wechat:epsmachine
EPS PRE-EXPANDER MACHINE eps eps machine
PREVIOUS: