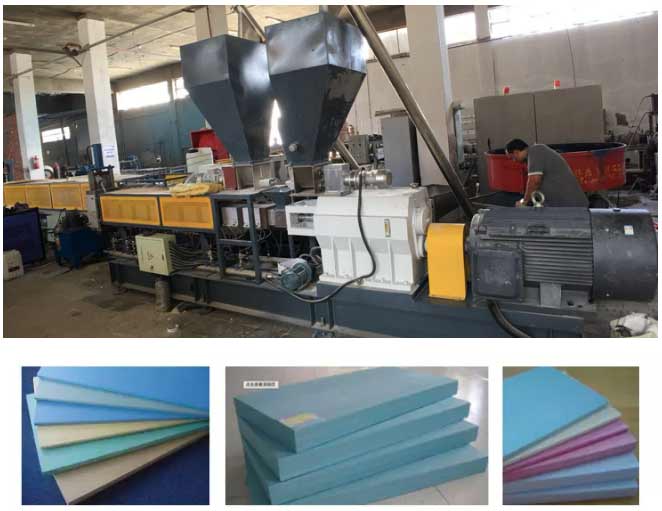 Voltage:380V
Application:Sheet
Weight:30 tons
Certification:CE ISO
Screw Design:Double-screw
Plastic Processed:XPS
Dimension(L*W*H):25M*2.5M*3.5M
Name:xps foam board production line
Raw material:GPPS
Additive:talcum powder, master batch
foaming agent:freon, DMA, or butan
Product:xps foam board
Processing Type:extruding
Warranty:1 Year
capacity:more than 320m3/24 hours
density:around 33kg/m3
product size:600mm or 900mm wide
After-sales Service Provided:Engineers available to service machinery overseas
Automatic Grade:Fully Automatic
Power(W):37kw


XPS foamed board is widely used in many fields------external wall insulation, roof insulation, central air conditioning ventilating duct, thermal-protective coating for airport runway, roadbed for highway, etc.
XPS board has many advantages as the following:

1. Perfect function of heat preservation and thermal insulation.
2. High strength and crushing resistance performance.
3. Water proof and moisture resistance.
4. Lightweight and easy to use.
5. Stable performance and anti-corrossion.
6. Environment friendly...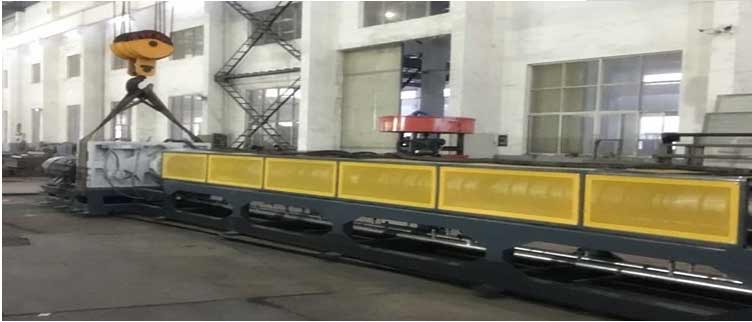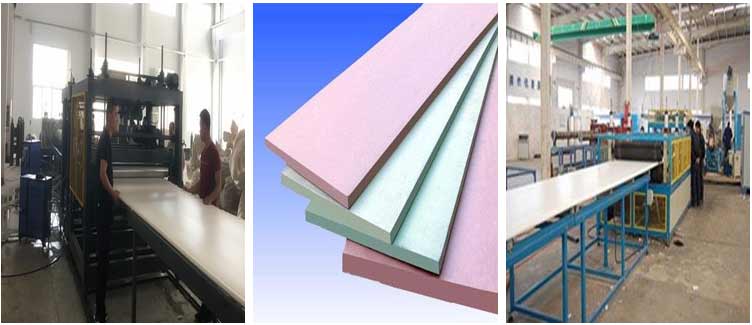 High quality extruded xps foam board production line
I. Mixer
The station is made of profile steel. Motor power is 3KW.
II. Automatic stainless steel feeding machine
1. Hopper material: stainless steel
2. Feeding capacity: 350-450kg/hour
III. MZ 75 Double Screw Extruder
1. Screw type: double screw. Dia: 75mm. L/D: 36:1.
2. Barrel Material 45 Steel forgings, barrel inside is integral alloy with thickness of 11mm. Screw material is 6442 HSS(high speed tool steel).
3. Main motor power is 110 KW, AC motor, Siemens Brand (with protector).
4. Cast aluminum heater of the barrel is 380V. 2.2KW frequency control is used for feeding of the main machine. 0.75KW frequency control is used for auxiliary feeding.
5. Gearbox is specially used for this line. The gear is treated by carburizing grinding which has the advantages of low-noise, long-life and reliable-use. The gear box has oil-water exchanger. Chinese national brand.
6. The connection of motor and gearbox is horizontal type.
7. The double screw extruder is equipped with adjustable bed.
IV.Automatic hydraulic net changing equipment
It is made of net-changing board, hydraulic cylinder, energy-saving machine and motor. (4KW)
The time for changing the net is 1.5 second.
The material of the net-changing board is 40Cr with heat treatment. Its sliding surface is very smooth.
The motor power of hydraulic station is 2.2KW, the pressure is 31.5MPA. It can change the net automatically.
The inside surface of the fuse pipe is chromed and polished so it is completely smooth. The fuse pipe has heating plate. All the connections has a space for spanner so that it is convenient for dismounting the bolts.
V.Foaming agent Injection & Metering System
High-pressure plunger pump is 63L/H, the motor power is 4KW. It adopts AC frequency control.
High-pressure pipeline and connector is high quality product made in Taiwan.
The max pressure is 40MPA.
The plunger pump is equipped with a set of sealing elements.
It is equipped with shockproof supporting seat.
VI. MZ150 Single-screw Extruder
L:D 45:1
Material of screw and barrel is 38CrMoALA with nitriding treatment. The depth of nitriding is 0.5-0.7mm, screw hardness is HV>740, barrel hardness HV>940.
Motor power is 55KW, AC motor, Siemens Brand.
The cooling of barrel is by water. Heating voltage of heating ring (cast aluminum) is 380V.
Customized gear box. Its gear is treated by nitriding. It has the advantages of low noise, long life and reliable use. The gearbox has oil-water exchanger.
The way of cooling water is close-loop inside the barrel.
It is fixed directly onto the ground. (the height of the seat is adjustable).
VII. Mould
The mould can make products with thickness 20-100mm, width 600mm. The mould
VIII. Mould temperature control system
The temperature controller is an intelligent meter, its heating power is 6KW, water cooling. The size of inlet is 3/4 inch. The working media is high-temperature heat-transfer oil. It is mainly used to control the temperature of the die mouth. Working temperature range is 40-120℃.
IX. Board thickness calibrator and first hauling machine
9.1 Board thickness calibrator
9.1.1 It is composed of pressing board, sliding plate, machine frame and driving mechanism.
9.1.2 Size of pressing board is 980x1100x20mm, one board is on the top, the other is on the bottom. Its movement is adjusted by screw lifter. Motor power is 0.75 KW x2=1.5KW.
9.1.3 The sliding plate is made of teflon board (2mm), one on the top and one on the bottom. Size is 950x1000x5mm.
9.1.4 The machine frame is made of profile steel.
9.2 First hauling machin
9.2.1 The hauling power is 2.2 KW, the speed is controlled by frequency control.
9.2.2 The hauling roller is made of two groups of rubber rollers. The bottom roller is the active one.
9.2.3 The upper roller pressing is adjusted by cylinder. The width of roller barrel is 1100mm, diameter is 240mm. Both groups of rollers are butyronitrile rubber rollers.
9.2.4 The machine frame is welded by profile steel.
X. Cooling roller frame
1.The length of cooling roller is 16 meters.
2. The guiding roll is positive pole aluminum roller.
3. There is a set of guiding board on the cooling roller to avoid the boards go off track.
XI. Horizontal Cutter
It adopts saw blade to cut the board edge. There are two groups of 3KW motors and 2 groups of air cylinders upside.
The cutting machine is before second hauling. The width of cutting is adjustable.
XII. Second hauling machine (with embossing roller)
There are two rollers, Both of the upper roller and bottom roller are embossing rubber rollers.
The drive system is frequency control with a motor power of 1.5KW.
The frame is welded by profile steel.
The bottom roller is active one. It is adjusted by air cylinder.
The double-side embossing machine and second hauling are in one machine.
XIII.Horizontal Cutting Machine
The cutting is made by saw blade. (saw blade motor is specially made).
The horizontal movement is done by chains. Motor power is
model

first screw diameter

(mm)

second extruder diameter

(mm)

capacity

(m3/24h)

RJ 52/110 extruding line
Φ52mm
Φ110mm

≥150

RJ 75/150 extruding line
Φ75mm
Φ150mm
≥320
RJ 85/200 extruding line
Φ85mm
Φ200mm
≥450
Main Part Brand: